LDB Slewing Bearing offers an extensive slewing bearing service
Slewing Bearing InstallationTransport and handling
Danger of life by overhead load
Do NOT step underneath the load
Use suitable slings
Use suitable lifting devices
Suitable transport tap hole are stated in the bearing drawing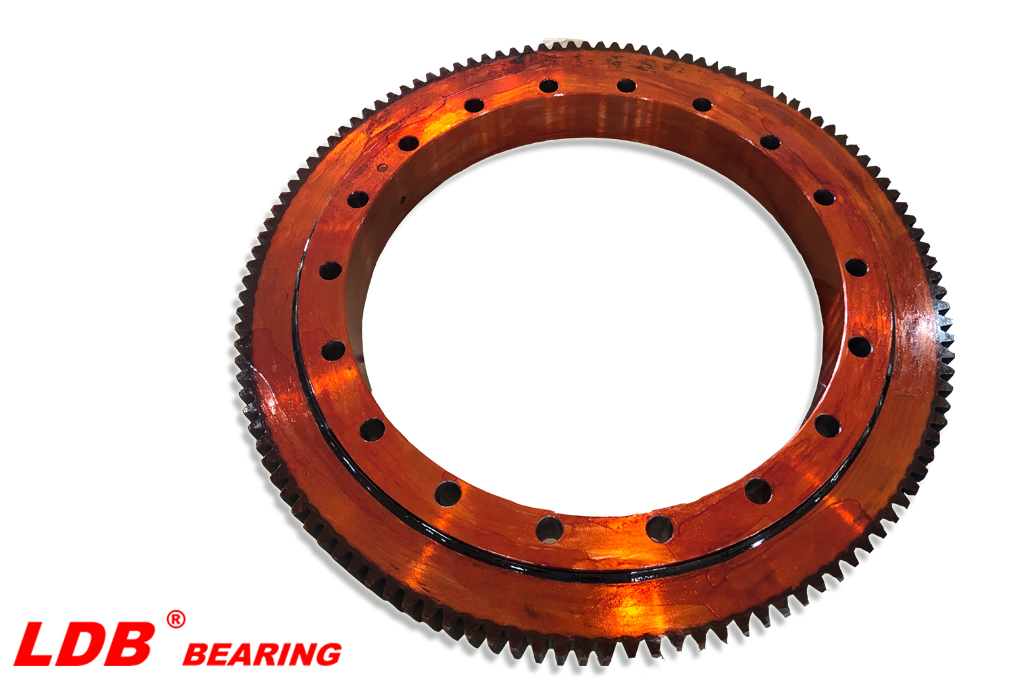 Slewing bearings, like any other part of a machine, require careful handling. They should always be ransported and stored in horizontal position. For safe handling of bearings which include transport holes, high tensile lifting eye bolts must be used. In special cases an internal cross bracing (transporting cross) is required. The bearing weight must be indicated on the crate or pallet. Impact loads, particularly in a radial direction, must be avoided.
Slewing bearings Delivery condition
The slewing bearings are delivered filled with one of the greases unless no special lubricant and special grease quantities are required.
The external contours of the bearings (except for holes) have Cortec VCI corrosion protection applied.
The gearing is not greased. The corrosion protection is applied as for the external contours.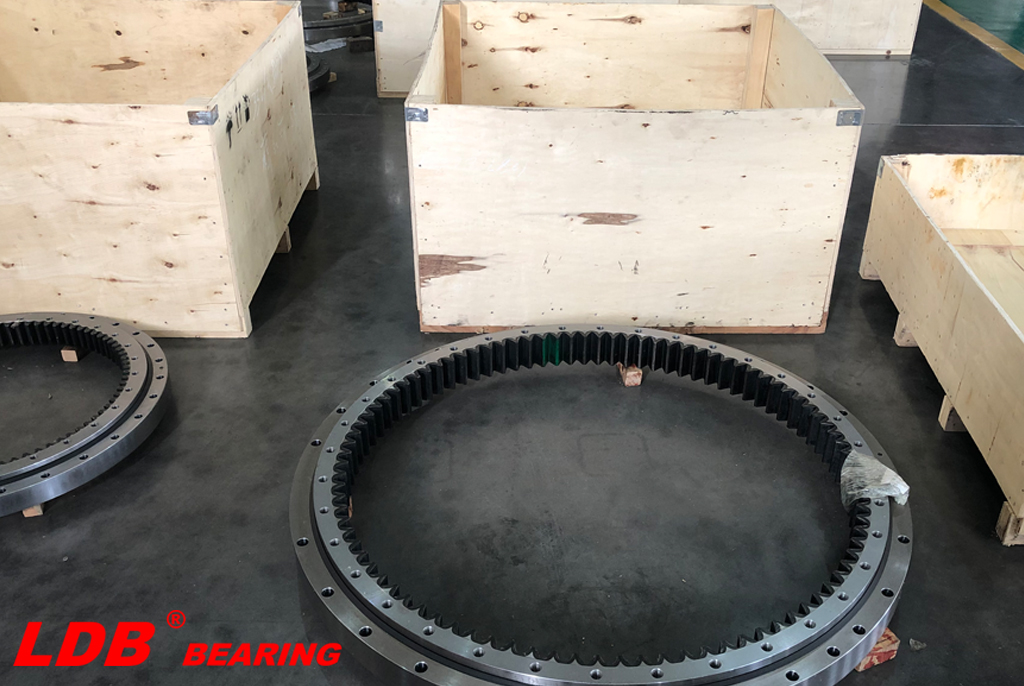 Sensitive surface
Do not open the packing with a sharp blade
Surface may be damaged
Approx. 6 months in roofed storage areas. Approx. 12 months in enclosed, temperature-controlled areas (temperature > 12 °C ). Outside storage is not allowed.
If required, other corrosion protection agents and types of packaging can be used, e.g. long-term packaging for up to 5 years.
Longer storage periods will necessitate special preservation. After the slewing bearing has been stored for a relatively long time, an increased frictional torque may be observed caused by the suction adhesion of the sealing lip. Careful lifting of the sealing lip with a blunt object around the entire circumference and several clockwise and counterclockwise rotations of the slewing bearing through 360 degrees will reduce the frictional torque to normal.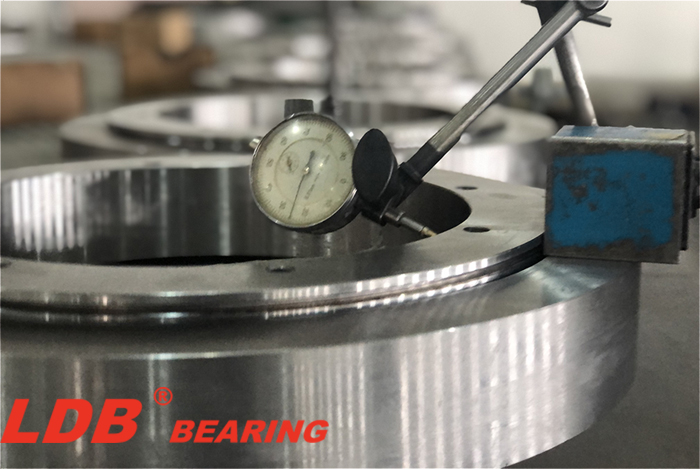 Risk of skin irritation caused by preservative
Safety gloves must be worn for removal
Pay attention to the producer's data
Entrapment hazard when putting the load down
Location control before putting tazhe load down
Mind the staff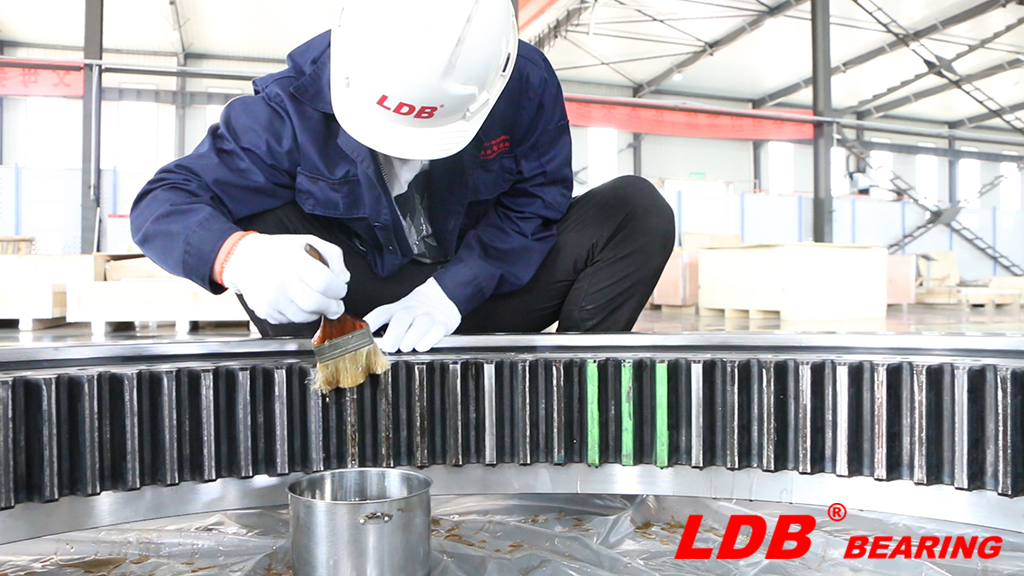 A flat mounting surface free of grease and oil is essential for the upper and lower ring to seat firmly. Welding beads, burrs, excessive paint and other irregularities must be removed prior to installation. The bearing rings must be completely supported by the connecting structure.
LDB Slewing bearings  recommends conducting a check on the mounting surfaces with a leveling instrument or laser equipment (this service can be provided by LDB). The flatness values should not exceed the values shown in table 1. To avoid larger deviations and the occurrence of peaks in smaller sectors, any deviation in the range of 0°–180° may only rise evenly once and fall again.
https://www.ldb-bearing.com/wp-content/uploads/2022/06/Slewing-Bearing-Installation-04.jpg
576
1024
管理
https://www.ldb-bearing.com/wp-content/uploads/2021/06/l.png
管理
2022-06-07 16:55:23
2022-06-07 16:57:55
Slewing Bearing Installation&Storage