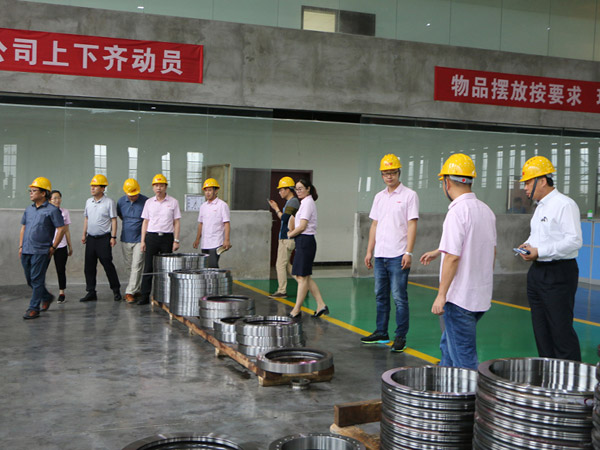 11th July, 2018, There are 6 people from IL JIN GROUP, Korea visited LDB for inspection, LDB General manager Mr. Yongzhong Tong with LDB's middle-level leader recept them and accompany them from the begining.
Korea IL JIN Group is one of the toppest ten companies in Korea and the most valuable brand in Korea. It has more than 20 legal entities and has established localized design and manufacturing bases in more than 10 Countries. The total number of employees in the world exceeds 10,000. The key technologies of science and technology, industry, communications, optoelectronics and other pillars have developed into large-scale enterprises. They are multinational enterprise group.
The inspection of the IL JIN Group is mainly to learn the production process, design and development, quality control process and future cooperation plan with LDB's slewing bearing.
At the symposium, LDB Mr. Tong-general manager, first extended a warm welcome to the visit of the IL JIN Group, and introduced the LDB's production situation. The two sides conducted friendly and in-depth communication. Mr. Tong said that after 20 years of development, the products of Luoyang Longda Bearing Co., Ltd (LDB) have been exported to more than 70 Countries and regions all over the world. The company is making every effort to accelerate its overseas strategy and lay out overseas markets. It is hoped that both sides can strengthen communication and give full play to their respective advantages and promote their mutual advantages, and achieve a win-win cooperation.
Subsequently, Mr. Tong accompanied the group of the IL JIN Group to the production workshop for on-the-spot investigation. The group of the IL JIN Group made a detailed understanding of the production process and assembly workshop of the slewing bearing. After the inspection, the group of the IL JIN Group gave high praise and suggestions on the production process and quality control of LDB, and expressed their willingness to cooperate with LDB.
As the pace of global economic integration is accelerating, LDB will always adhere to the goal of MANUFACTURE ELABORATELY, SERVE THE WORLD, Pay attention to the production, quality, sales and service of products, seize opportunities, and explore the international market for the world. Provide high quality products to Customers.
https://www.ldb-bearing.com/wp-content/uploads/2021/04/news6.jpg
450
600
管理
https://www.ldb-bearing.com/wp-content/uploads/2021/06/l.png
管理
2021-04-01 11:18:39
2021-04-01 11:19:11
Korean ILJIN GROUP delegation visited LDB